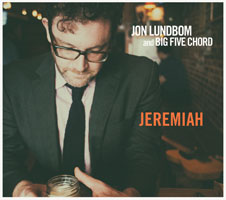 About as subtle as a plane crash but way more exciting!
Brent Black / www.criticaljazz.com
A meticulously nuanced free jazz attitude with a smoldering hard rock edge has Jeremiah as the perfect follow up to the critically acclaimed Liverevil. Two new additions to Big Five Chord bring a powerful harmonic punch to what is truly one of the finest collectives working the scene. Jeremiah is packed with variety and works well as both a cerebral and visceral vehicle of improvisational magic.
Jon is an artistic chameleon as he quietly moves from clean angular solos to some rather daring chordal type comp work as evidenced on the tune "The Bottle." The composition "Frog Eye" might be the most engaging tune with a banging soprano saxophone solo from the young dynamo Jon Irabagon. The key to success for Jeremiah might simply be in expecting the unexpected yet the musical co-conspirators never get in there own way. The closing number is a live recording of the aptly titled "Screamer" where the band is given ample room to stretch out and make individual statements with a synergy most bands can only dream of.
Meters are changing on the fly as well as dynamics as this may be the sonic equivalent of not burning the candle at both ends but starting right in the middle!
Tracks: The Bottle; Frog Eye; Scratch Ankle; First Harvest; Lick Skillet; Wiccan Prayer Song Medley; Screamer.
Personnel: Jon Lundbom: Guitar; Jon Irabagon: Soprano Sax; Bryan Murray: Tenor and Balto Saxophones; Moppa Elliott: Bass; Dan Monaghan: Drums.
Special Guests: Justin Wood: Alto Sax & Flute; Sam Kulik: Trombone.