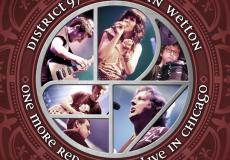 The death of progressive rock has been greatly exaggerated and District 97 is proof!
John Wetton is a legendary lead singer known primarily for his work with King Crimson and later Asia. Most vocalists with the power of Wetton slowly lose their pipes with the passage of time yet Wetton seems to have only become better as he has hooked up with one of the more exciting progressive bands working the scene.
One More Red Night is a review that writes itself. This live set recorded in Chicago highlights the best works from the legendary band King Crimson. Two immediate attention grabbers include "Lament" along with "21st Century Schizoid Man." The band is incredibly solid and includes perhaps the next rising star in singer Leslie Hunt.
The release works well as this is far more than a set of covers with Wetton and a handful of afterthoughts but is in fact a tight working band with a seemingly bright future. Whether you dig King Crimson or simply are a progressive rock fan with a broad spectrum of taste then you should find District 97 as one of the better prog releases in the last decade.
Tracks: One More Red Nightmare; The Great Deceiver; Lament; The Night Watch; Fallen Angel; Book of Saturday; 21st Century Schizoid Man; Starless; Easy Money.