American Pianists Association Announces Performance
Dates for 2015 Cole Porter Fellowship in Jazz Finalists
Finalist CHRISTIAN SANDS to Kick Off the American Pianists Association's 2014 - 2015 Jazz Fellowship Awards presented by REI Real Estate Services at Indianapolis' The Jazz Kitchen on

Saturday, September 27 at 8 PM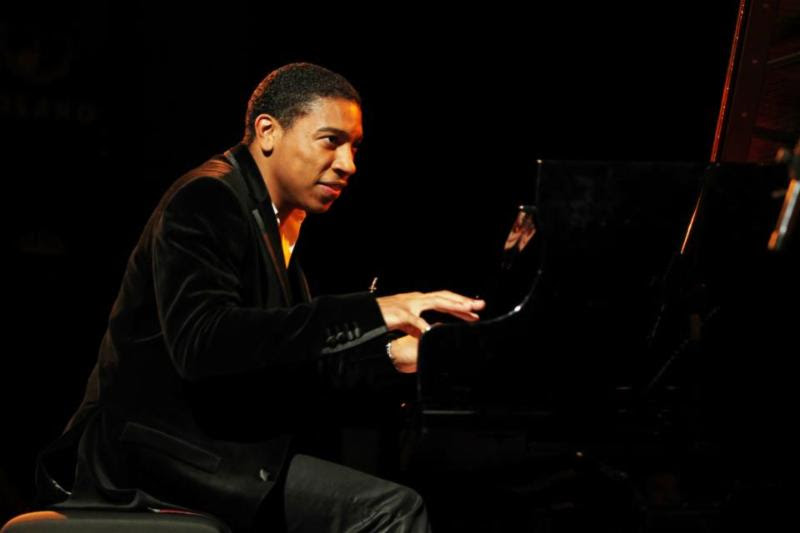 Christian Sands - Photo Credit: Francesco Galletto
Beginning on

Saturday, September 27

, five Finalists will compete for the $100,000 prize and the title of 2015 Cole Porter Fellow in Jazz of the American Pianists Association. Having been selected as Finalists each of the five pianists will perform as part of The REI Real Estate Services Jazz Premiere Series in their own fully produced set at Indianapolis' The Jazz Kitchen.
Pianist Christian Sands will kick off the Premiere Series on Saturday, September 27 at 8 PM in Indianapolis at The Jazz Kitchen. Sands, age 25 and hailing from New York, is a two-time Grammy® Award-nominated pianist who is a member of the Christian McBride Trio and has performed at the 2006 and 2007 Grammy® Awards including a highly publicized duet with pianist Oscar Peterson. In addition, Sands has performed with Lou Donaldson, Wynton Marsalis, Kirk Whalum, Rufus Reid, Derrick Hodge, James Moody and Phil Woods.
The remaining Finalists and their respective performance dates at The Jazz Kitchen are as follows:
Sullivan Fortner / 27 / New Orleans, LA
Saturday, November 8, 2014
Sullivan Fortner - Photo Credit: Brad Berger
Emmet Cohen / 24 / Miami, FL
Saturday, December 6, 2014
Emmet Cohen - Photo Credit: Lauren Desberg
Zach Lapidus / 28 / Indianapolis, IN
Saturday, January 24, 2015
Zach Lapidus - Photo Credit: Mark Sheldon
Kris Bowers / 25 / Los Angeles, CA
Saturday, February 28, 2015
Kris Bowers - Photo Credit: Janette Beckman
____________________________________________________________
The Finalists will compete September 2014 - February 2015 in Indianapolis, Indiana. On

March 27, 2015

, the Semi-Finals will take place at The Jazz Kitchen and on

March 28, 2015

, the Finals will take place at Hilbert Circle Theatre with featured four-time Grammy® Award-winning vocalist Dianne Reeves. The Finals will be judged by pianists Amina Figarova, Bill Charlap, and Edward Simon, as well as Mack Avenue Records Executive VP of A&R Al Pryor and journalist Don Heckman. The Finals will be streamed live featuring webcast host Christian McBride at AmericanPianists.org. The winner will be named the American Pianists Association's Cole Porter Fellow in Jazz.
The Cole Porter Fellowship, valued at $100,000, includes a $50,000 cash prize (the largest prize in the world for a young jazz pianist), a recording contract with Mack Avenue Records, and career assistance and engagement for two years.
The mission of the

American Pianists Association

is to advance the careers of American jazz and classical pianists between the ages of 18 - 30. The organization was founded in 1979 in New York City and has been in Indianapolis since 1982. Past winners have included Aaron Diehl, Dan Tepfer and Aaron Parks, among esteemed others.
Planning on posting to social media about the American Pianists Association's
Jazz Fellowship Awards? Please use the following hashtag: #apajazz2015