AVAILABLE TODAY on OKeh Records:
SOMI Breaks New Ground on Her Major Label Debut
Album Debuts at #1 on iTunes Jazz Chart
New African Jazz and Soul Inspired
by a Journey to Lagos, Nigeria
Featuring Guest Artists Common and Angelique Kidjo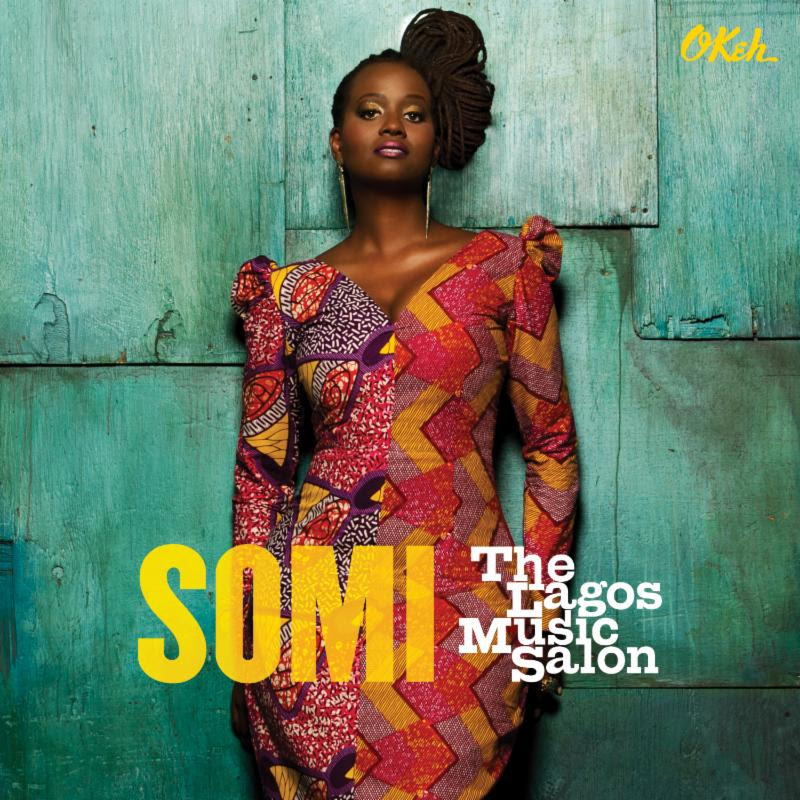 Album Release Show
Wednesday, August 6 @ The Cutting Room
7:30 PM

- 44 E. 32nd Street, New York
"Somi's songs gracefully fuse African-tinged grooves, supple
jazz singing and compassionate social consciousness;
Few contemporary albums bare as particular a narrative as The Lagos Music Salon. The new album by the superb chanteuse Somi, finds her breaking new ground with a hybrid style of music that organically integrates the essence of jazz and soul with the musical depth of her African heritage. "It's the first time ever that I put all other pursuits on hold to focus solely on the creative process," says Somi, who decided to move to Lagos, Nigeria from her New York home base without a game plan but with a passionate desire to find a new direction for her vision and voice.
The Lagos Music Salon
marks Somi's major label debut for Sony's OKeh Records and features a range of originals that are sublimely melodic and percussively textured. "Last Song" has already been added into rotation at VH1 Soul and REVOLT TV, and the vocalist was recently interviewed for The Tavis Smiley Show and The Bob Edwards Show - both critically acclaimed radio programs airing nationally. Additionally, Somi was recently featured in New York Magazine's Grub Street section and continues to receive accolades from major jazz outlets including JazzTimes and DownBeat.
A socially informed and adventurous vocalist, Somi sings with a soulful beauty about her experiences in Lagos. While there, she kept a journal of her observations and collaborated with a community of musicians, writers and artists who helped her to envision what would become The Lagos Music Salon.
The album covers a broad swath of styles and features a number of carefully matched guest performances. These include a fast-paced groove with Afro-pop sensibilities on the Fela Kuti-inspired "Lady Revisited" with Angelique Kidjo, and a rap-inflected cinematic reflection on Africa's pollution, "When Rivers Cry," that features Common.
Also in the mix are field recording snippets, including an exchange at the Lagos airport with an immigration officer, heated rally cries from the Occupy Nigeria protests, and a parabolic story of an over-skilled monkey.
"I'm excited about this album," Somi says. "I allowed myself to abandon the boundaries of my comfort zone, but that gave me the room to explore and play with new ideas and inspiration. Some people see me as an African artist and not jazz, while others see me as a jazz artist influenced by Africa. But I'm not focused on genre. My intent is to be honest with the songs and where they take me."
photo credit: Glynis Carpenter
Born in Illinois, the daughter of immigrants from Uganda and Rwanda, Somi's dramatic Salon story started ironically and sadly on the release date of her 2009 album,
If the Rains Come First
, when her beloved father passed away.
"I had to weather the storm of his passing," Somi says. "The loss was so sobering that I began to question my own life's legacy and path. My dearest mentor Hugh Masekela knew about my personal loss and subsequent desire for change. He also knew that, more than ever, I wished I could move 'home' to Africa. Something about the idea seemed like it might be a way to get closer to my father's spirit and my own heart. It was Uncle Hugh that reminded me that to be a musician is to be a global citizen and that I should always listen to my heart should it long to travel. 'Stop thinking about it as a move,' he said, 'Think of it as an opportunity to spend time with another part of your global audience.' That's when I decided to make the bold choice of moving to Lagos in 2011. A true Africanist, I believe my father is proud of that choice."
A TED Global Fellow and also founder of the New Africa Live nonprofit that champions African artists, Somi has for the last decade carved out a career of singing and being an activist. On
The Lagos Music Salon
, the best album of her young career, she magically combines the two facets of her life. As for her adopted city, she says, "It was a euphoric new place for me, an important journey. I wanted to tell honest stories in the spirit of gratitude."
Somi · The Lagos Music Salon
OKeh
·
Release Date:
August 5, 2014
"Like" Somi on Facebook:

"Follow" Somi on Twitter: