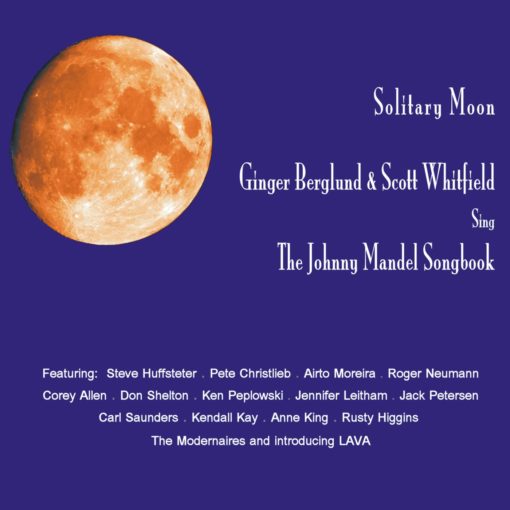 Perhaps the most creative look at an American cultural icon...
Brent Black / www.criticaljazz.com
The Johnny Mandel Songbook has been done to death but never this well! Vocalist Ginger Berglund and trombonist Scott Whitfield team up to pay more than fitting homage to one of the finest composers to score in jazz, pop and music for the big screen. The all star band assembled includes such luminaries as Airto Moreira, Ken Peplowski and Pete Christlieb. The arrangement move from traditional big band to small combo settings and reinvent some timeless classics.
As varied as Mandel's work, the arrangements here compliment the spirit of the great American composer. A tremendous acappella riff on "Where Do You Start" pairs well against the full on swing of "Emily." The blues infused "Vacation From Blues" may be the hidden gem in the release along with the title track "Solitary Moon."
Berglund and Whitfield could have simply phoned one in and done very well. This critically acclaimed duo dug deep with fresh arrangements, a variety of ensemble settings while still capturing the spirit of the great Johnny Mandel. Very little to say, you know the tunes but you may have never heard them banged out this well!
Tracks: Cinnamon & Clove; Little Did I Dream; Solitary Moon; First; The Shadow Of Your Smile; El Cajon; Close Enough For Love; A Waltz From Somewhere; Where Do You Start?; Vacation From The Blues; You Are There; Sure As You're Born; I Never Told You; Emily; I Won't Believe My Eyes.