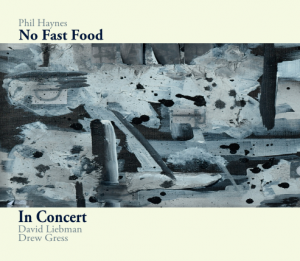 Phil Haynes No Fast Food In Concert - Ridiculously Good!
This is a full contact trio that is not afraid to go the distance. A two disc set of all original material from drummer Haynes that evolves into ongoing lyrical conversations. Saxophonist David Liebman and first call bassist Drew Gress round out the unit which is oddly reminiscent of trios from forty years ago but moves well past the predictable. No Fast Food is a harmonic exploratory and the collective creates, deconstructs and reassembles tunes at will. Dynamics move with an almost spatial grandeur as the lyrical flow is created on the fly. They just don't make them like this anymore! While Haynes is the leader, the collective aspect of the group is a spontaneity rarely heard from some of the working bands today.
Given the nature of these fiery co-conspirators, an intriguing aspect is that some of their most creative performances occur on the mid tempo "Blues For Israel" and the ballads "Last Dance" and "Chant." Most artists would struggle with finding enough engaging material for a two disc set yet Haynes is a formidable composer. As a unit they are pushing the music forward at a time when "predictable" seems to be the norm. The material was written with all the players in mind and this might be the prime key to success.
One of the two best trios since the legendary Elvin Jones trio.
Tracks: Dawn On The Gladys Marrie; West Virginia Blues; Together; Last Dance; The Code; Ballad du Jour; Zen Lieb Out of the Bowels; Workin' It; Blues For Israel; Incantation; Chant; Encore du jour.