World-Renowned Guitarist BILL FRISELL
to Release Autobiographical Repertoire on
Upcoming Album GUITAR IN THE SPACE AGE! -
October 7

via OKeh Records
"May you never hear surf music again." - Jimi Hendrix
"Space is the place." - Sun Ra
Just when you think you've got guitarist-composer Bill Frisell all figured out, confident in your expectations, this American original shakes things up with a heretofore unexpected glimpse into those layers of consciousness which inform his rootsy, inclusive, oh so personal style of musical outreach.
Because while Bill Frisell is capable of routinely navigating the most harrowing ascents into the outer reaches of the improvisational Ionosphere without once ever flinching, there emerge at regular intervals suggestions of something more childlike and elemental; a sensibility which revels in expressions of earnest, unadorned directness - the aesthetic poetry of an impressionistic painter who is unafraid to distill things down to their most folkish, heartfelt essence.
"There's something about being the age I'm at now," reflects this iconic guitar hero. "I turned 63 this past spring, and after playing for more than 50 years, it just feels right to once again play some of the music which shaped my consciousness during my formative years, even to play some of it for the first time...and maybe get it right. GUITAR IN THE SPACE AGE! isn't really an exercise in nostalgia, but about a re-commitment to keep learning, to firm up the foundation-and to showcase one of the best bands I've ever had."
As a baby boomer who came of age in the 1950s and 1960s, there is an undeniably autobiographical bent to the tenor and tone of the repertoire which Frisell explores on GUITAR IN THE SPACE AGE! along with long-time collaborators Greg Leisz [pedal steel & electric guitar], Tony Scherr [acoustic bass and electric bass guitar] and Kenny Wollesen [drums and vibraphone]. Collectively they imbue this recording with all of the precision, elegance and swing of the Modern Jazz Quartet, and the "we always solo/we never solo" ebb and flow of Weather Report - let alone the little red Corvette twang-o-rama of the Ventures, the Byrds, Blind Faith, the Allman Brothers and a thousand other twin guitar bands).
Because as a triumphant post-war America entered unto a giddy period of prosperity and growth, suggesting the dynamic vitality of its veterans and the limitless potential of their children; an era that was bookmarked by James Dean and Elvis Presley on one hand-embodying the ascent of youth culture and rock and roll-and the moon landing on the other; in the wake of the atomic bomb, the civil rights struggle, the assassination of the Kennedy brothers, Malcolm X and Dr. King, and the twin body blows of Vietnam and Watergate, it also marked an end to our collective innocence.
"It was the space age and there was all of this optimism," Bill recalls. "Growing up as a kid in the early '60s, it seemed as if anything was possible-the future was going to be so great. But at the same time there was a serious sense of fear: the Cold War, duck and cover, the civil rights struggle-Vietnam was on the way. So while there was something really liberating and empowering about coming of age during that time, there was also a lot of darkness - it just had to leave a mark on you."
Bill Frisell - Photo Credit: Paul Moore
And in retrospect, nothing was quite as liberating and empowering as the music of that era, powered as it was by the emerging dominance of the electric guitar in popular culture, particularly one influential model as perfected by a visionary veteran of the old radio industry, Leo Fender. Back in 1950, this country and western Henry Ford translated his love for lap steel guitars in general, and Bob Wills & The Texas Playboys in particular, into the first mass-produced solid body electric guitar, and what an enduring hot rod jalopy the Fender Telecaster has been. (The very instrument Frisell plays throughout GUITAR IN THE SPACE AGE!, while Leisz plays a Fender Jazzmaster, while doubling hypnotically on slide and the pedal steel guitar.)
Surf music as distilled by Frisell and company-defined as it was by the sparkling twang and spooky reverb of Leo Fender's iconic guitars and amplifiers-somehow seems both more dangerous and more romantic than at its inception-but then, maybe it always was. And while the catch-a-wave, little-deuce-coupe pop culture of Southern Californian held but a passing allure for the adolescent Bill Frisell and Greg Leisz, their emotional connection to the look and sound of those way cool Fender guitars and amplifiers endures to this very day.
"It's so amazing doing it together with Greg," Frisell enthuses. "Having each grown up during that time, there's so much understanding, such an unspoken code between us.
"Playing with Greg has never felt to me like lead/rhythm. It's always been this kind of effortless conversation...where we don't have to hold anything back. It never feels like we get in each other's way. You see, I like to pretend that I'm a singer. That's so much of the way I think on the instrument-trying to mimic a voice. And Greg has played with so many singers (it might be easier to list the ones he hasn't played with), so he's just a master accompanist, super supportive-but in the most spontaneous, in the moment, unpredictable kind of way. Maybe that's why it works. We have this deep bond, but we've never really had to talk about it or plan anything or arrange anything. I don't want to jinx it."

"It's funny. Our birthdays are exactly six months opposed," Leisz offers by way of an amen chorus. "Even though it's not the same year [Greg was born on September 18, 1949, Bill on March 18, 1951], we were born on opposite sides of the sun; Bill is right handed while I'm left handed.
"We were both learning surf tunes," Greg recalls. "But in the early '60s, Bill grew up in Denver. Whereas my father's work in the radio and aerospace industry eventually landed us in Fullerton, California, not far from Leo Fender's old radio shop and the factory. Everyone knew about Fender Guitars. Being in Southern California, I was obviously in the middle of all that surf music activity; ironically enough, after we covered "Baja" by The Astronauts for this album, it occurred to me that here was a band from Boulder, Colorado, in the foothills of the Rocky Mountains, just outside of Denver, which had a surf hit out in my neck of the woods - that'd escaped me at the time."
"Just looking at the cover of the Astronauts' album got me lusting after all those blonde piggyback Fender Amps, the blonde Fender Jazzmaster, and the blonde Jaguar guitars," Bill chimes in.
"And it was a really long time before we finally got our first electric guitars. I got a Fender Mustang, and Greg also got a Mustang, and right about that same time, too, like 1965 - only he got his custom painted," Bill adds with a touch of longing.
"An older neighbor who lived like two houses away used to paint all of Dick Dale's guitars," Greg laughs. "And at one point I actually saw Dick Dale, the King of Surf Guitar, going in to his house. Man. And my first Fender was a powder blue Mustang, but he painted it this purple metal flake - a car color, you see."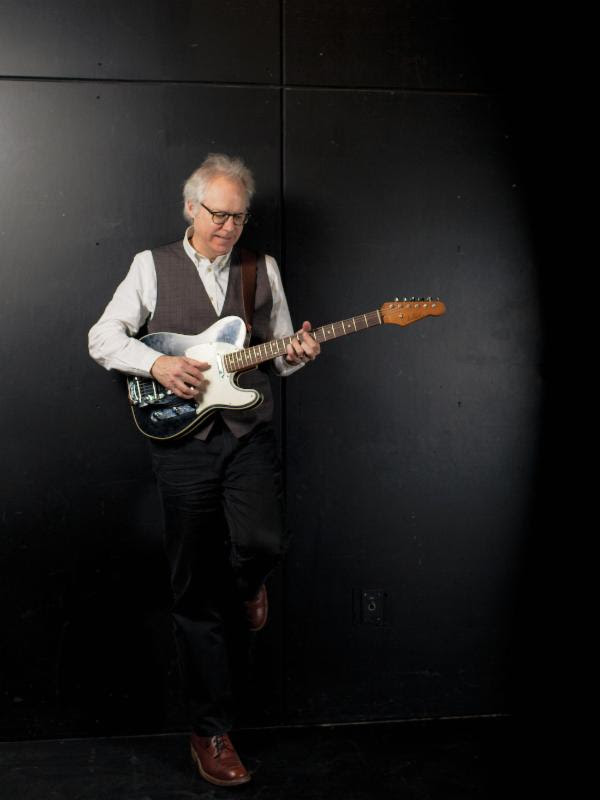 Bill Frisell - Photo Credit: Paul Moore
Given the collective wealth of experiences paralleling Bill and Greg's rites of passage, and the impeccable rhythmic context provided by Scherr and Wollesen, it's not surprising that the ambient narratives Frisell and Leisz weave on covers of the Kinks' "Tired Of Waiting", the Chantays' "Pipeline," Link Wray's "Rumble," Duane Eddy's "Rebel Rouser," the Astronauts' "Baja" and the Tornados' "Telstar" are so timeless - yet impeccably modern in the best sense of that word.
Not to mention the fresh possibilities Frisell unearths in hillbilly jazz-flavored treatments of Merle Travis' "Cannonball Rag" and the airborne guitar/pedal steel convocations of Jimmy Bryant and Speedy West on "Bryant's Boogie," suggesting as they do the godfather of electric guitar, the Oklahoman native Charlie Christian, and countless other instrumental possibilities yet to be unearthed from the great American songbook of jazz, blues and rock.
Then, hovering at the apex of the Earth's Electro-Magnetic Field, are a pair of luminescent satellites freshly re-arrived from the charged electrons of the Frisell Belt: "Shortest Day" and "Lift Off"-speaking as they do of the composer's deceptively cool harmonic signature and contrapuntal inclinations. And ultimately, in one conclusive devotional gesture, there at the gravitational epicenter of this recital, is Bill's Junior Prom-Slow Grind-Rapture Of Our Collective Dreams-treatment of "Surfer Girl" by the Beach Boys - a hit single in some more advanced galaxy than this; an enchanted world of yesterday, today...and tomorrow.
"Some of the songs are maybe more of a tribute to important people from that era, not so much from when I was a kid, but whom I discovered later-on: Merle Travis, Duane Eddy, Jimmy Bryant - kind of a Country-Jazz-Blues hybrid that became part of the fabric of everything I ended up doing," Bill states conclusively.
"And along those lines, we've begun doing "Walk Don't Run" by Johnny Smith, who was an important mentor in the Denver area. He gave me such a big push during the semester in which I studied with him - Johnny led me to really believe in myself, and that I had what it took to make a life for myself as a creative musician.
"We've also started to play "Bumpin' on Sunset" by Wes Montgomery; I learned that song (or as close as I could get) back in the fall of 1967 for my all-school talent show at East High in Denver - it changed my life.
"Funny, though...I never actually saw Wes. My dad bought us tickets. It was a traveling Newport Jazz Festival show at Red Rocks. Wes passed away shortly before that gig. I went anyway: Monk, Cannonball, Dionne Warwick and the Gary Burton Quartet with Bobby Moses, Steve Swallow and Larry Coryell. I didn't know any of these people, except for Dionne Warwick, and my mind was blown...1968, what a year.
"So yeah, you could safely say that much of GUITAR IN THE SPACE AGE! is very personal for me. I mean, the first record I ever bought was this single by the Beach Boys, featuring 'Little Deuce Coupe' on one side and 'Surfer Girl' on the other. Oh, man, those harmonies on 'Surfer Girl' just gave me chills. And while "Shortest Day' and 'Lift Off' are the only originals on the record - serving as instrumental interludes in my mind - I certainly hope to write and introduce more of my own stuff as we evolve and progress. I don't plan to just play what's on this record. There's just so much stuff, so many ways we can go, so many ways we can grow."
Written by Chip Stern
GUITAR IN THE SPACE AGE! Track Listing:
1. Pipeline (Brian Carman/Bob Spickard)
2. Turn, Turn, Turn (Pete Seeger)
3. Messin' with the Kid (Mel London)
4. Surfer Girl (Brian Wilson)
5. Rumble (Milt Grant/Link Wray)
6. Shortest Day (Bill Frisell)
7. Rebel Rouser (Duane Eddy/Lee Hazlewood)
8. Baja (Lee Hazlewood)
9. Cannonball Rag (Merle Travis)
10. Tired of Waiting for You (Ray Davies)
11. Reflections from the Moon (Speedy West)
12. Bryant's Boogie (Jimmy Bryant)
13. Lift Off (Bill Frisell)
14. Telstar (Joe Meek)
Bill Frisell, electric guitar / Greg Leisz, pedal steel & electric guitar
Tony Scherr, acoustic & electric bass / Kenny Wolleson, drums and vibraphone
Produced by Lee Townsend
Bill Frisell - "GUITAR IN THE SPACE AGE!" Short EPK
Directed by Paul Moore & Edited by Paul Hicks
Bill Frisell · GUITAR IN THE SPACE AGE!
OKeh
·
Release Date:
October 7, 2014
Sony Music Masterworks comprises the Masterworks, Sony Classical, OKeh, Portrait, Masterworks Broadway and Flying Buddha imprints. For email updates and information please visit