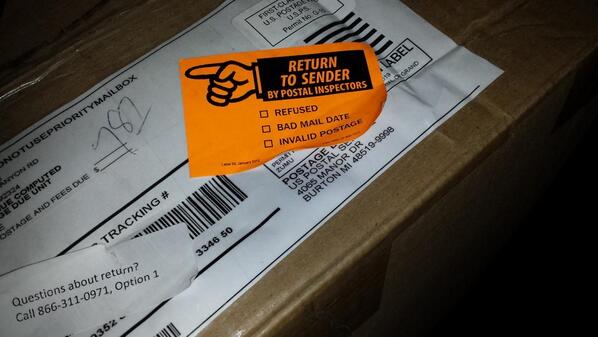 What you see pictured above is a package returned to sender after making an ill fated trip to the company formerly known as Zumu.co or "The Land of Zumu." An individual that read about my on going investigation sent me this photo via Twitter.
I have been following this company since having shipped two hundred dollars worth of merchandise to their office starting in 10/13 and with no payment as of this date. There are hundreds of unresolved complaints with the BBB who has since taken this fraudulent company down to an F rating. In the last 48 hrs. I received a letter from the Attorney General of Michigan requesting documentation to potentially aid in their prosecution of the individual (s) behind this scheme.
I wish I could take full credit however you never give up and you never stop fighting when you know you are right. If you or someone you know has tried to send merchandise to this company then I urge you to file a complaint on line with the Attorney General of Michigan. It will pay off eventually. Granted, the money is not huge when you sell used media. I was selling mine to down size due to my ill health. The money would have been nice and helpful, now it is about justice...
I am mailing my documentation in the next 48 hours and I sincerely hope it leads to an arrest warrant. This company was evicted for non payment of rent and has even had complaints filed by advertisers they attempted to do business with. There may be only two or three employees left as on line reports indicate pay checks were bouncing much like payments some received for their merchandise. Sure...things happen but this is extreme. Please share this post on every social media outlet that you use.
If you Google the information I have provided you will stumble into the owners name and address. Check carefully with any other company you choose to try and sell your used media with and if this individuals name pops up - contact the Attorney General.
Thanks!
Brent