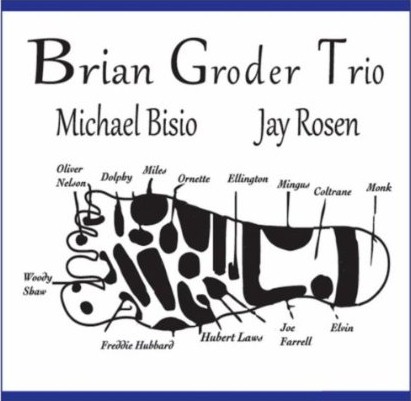 An open ended approach that challenges the imagination while transcending traditional theory. Stellar!
Brent Black / www.criticaljazz.com
Listed as an "avant garde" recording on some web sites, Reflexology is the aptly titled adventurous recording from the Brian Groder Trio. The term "avant garde" was coined by critics in an effort to describe music that was left of center and well past the standard accepted traditions of improvisational music of the day. This particular archaic term is neither accurate or adequate to describe the critically acclaimed work of Brian Groder whose background is as varied as his approach to composition. Of course by nature we know critics are obsessive compulsive narcissists with the pathological need to carefully label and categorize all music into specific segments or genres...Brian Groder is an artist, not a genre.
The trio is comprised of rising star bassist Michael Bisio and one of the most sought after lyrical drummers in Jay Rosen. All compositions with the notable exception of Haiti-B are from Groder. A piano less trumpet trio while not the norm is not terribly unusual. Instead of the predictable covers from Miles Davis, Freddie Hubbard and Woody Shaw, The Brian Groder Trio pulls from a myriad of melodic influence and adapts this inspiration to a textured shading that showcases their own lyrical intent. At times rhythmical complex while keeping a minimalist presentation, The Brian Groder Trio skillfully works a harmonic net that moves well past what some would consider traditional improvisational music. Simplicity is indeed the ultimate sophistication.
One foot in the past and a keen lyrical vision for the future has garnered Brian Groder critical acclaim from All About Jazz and Downbeat. Reflexology should fair well across the board and is certainly a release that is worth closer examination. An amazing virtuoso performance, the future for improvisational trumpet is in good hands.
Tracks: What Not, Hexadox, Some Other Where, Haiti-B, Veer, Tarried Breath, Deeping Appearances, Opposing Motion, Snooker.
Coming July 15th