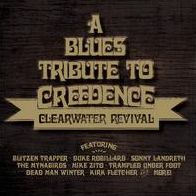 Perhaps the finest interpretation of what some would say is the Great American Rock-N-Roll songbook!
Brent Black / www.criticaljazz.com
So...Creedence Clearwater Revival has been gone for what, over forty years? The life expectancy of most bands is probably less than 6 years of what some of us refer to as critical i.e. commercial success.

Creedence

is indeed the band that will not die. Countless collections and retrospectives on their all too limited discography have been offered up. Most are horrible.
A Blues Tribute to Creedence Clearwater Revival is perhaps the finest "tribute" release to have surfaced with stellar performances from Sonny Landreth, Leroux, and Duke Robillard among others. The true blues infused swamp sound of this legendary American institution is embraced with that same raw edge that took America by storm in 1969.
This is a no-brainer.
Tracklist
01. Fortunate Son - Mike Zito & Sonny Landreth
02. Bad Moon Rising - The Mynabirds
03. Proud Mary - Blitzen Trapper
04. Down On The Corner - Spirit Family Reunion
05. Have You Ever Seen The Rain - Dead Man Winter
06. Looking Out My Back Door - LeRoux
07. Who'll Stop The Rain - Duke Robillard
08. Up Around The Bend - South Memphis String Band
09. Susie Q - Will Wilde
10. Run Through The Jungle - Smokin' Joe Kubek & Bnois King
11. Green River - Kirk Fletcher
12. Born On The Bayou - Trampled Under Foot