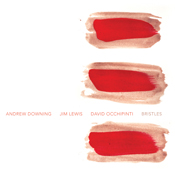 An ever changing deconstruction of lyrical minimalism...Downing/Lewis/Occhipinti get that!
Brent Black / www.criticaljazz.com
Bristles is an oddly conceptualized release where this Canadian trio with the slightly left of center instrumentation embrace the impressionistic manipulation of both sound and texture. An auspicious debut release that does an exploratory over such standards as "My One and Only Love" and "You The Night and the Music." These two tunes are perhaps the finest examples of how melody can be artistically adapted and modified to fit less than traditional meter while never being mangles across the way. A trio with amazing potential that plays within themselves yet push the harmonic envelope but never the listener over the edge and into the melodic abysses. Amazingly nuanced allowing each member room to move.
Two other tunes of note are "Solar" and "I Fall In Love Too Easily." Melancholy but never morose finds the minimalist ground zero as a fertile improvisational playground from which to manipulate colors, texture and even emotions. Simple yet evocative. Expansive yet lyrically centered. Perhaps the collaborative original improvisations of this trio are some of the most evocative of tunes, inspired by such painters as Emily Carr and Jackson Pollock.
Five of the six standards were recorded live. One of the few smaller ensembles that seems equally at home be it live or tucked away in the recording studio. A release as ambitious as this has the potential to go on auto pilot shortly be heading straight for the side of the improvisational mountain. Bristles however is charting a new cerebral could for modern jazz and it would seem to have clear skies ahead. A sleeper for 2014.
Tracks: Cy Twombley; Solar; Emily Carr; My One and Only Love; Jackson Pollock; Once I Loved; Wassily Kandinsky; You and the Night and the Music; Paul Klee; Emily; Jean Dubuffet; I Fall In Love Too Easily.
Personnel: David Occhipinti: Guitar; Andrew Downing: Double Bass; Jim Lewis: Trumpet.