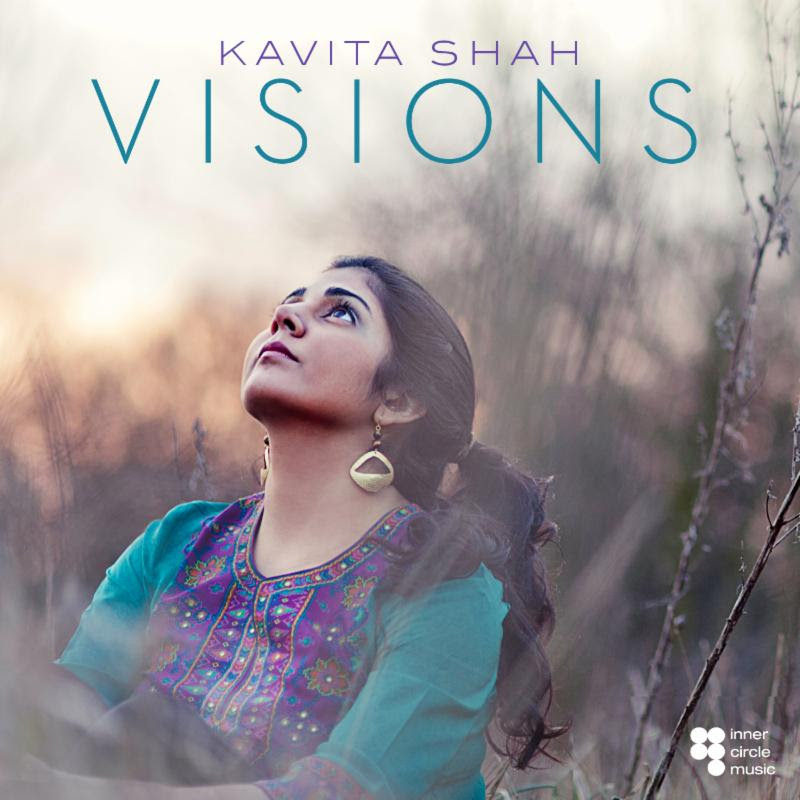 A captivating new voice whose vision is global and whose talent is extraordinary.
A jazz quintet with Indian tablas and West African kora...can't work. Sometimes being wrong works for me. Co-produced with the great Lionel Loueke, Kavita Shah releases one of the most unique and globally inspired debut release in some time. Both Shah and Loueke have that common bond of a streamlined music that transcends genre, music that celebrates the artist as a cultural by product of their own experience while pushing the harmonic boundaries ever so slightly to form new hybrids and new sounds. Visions is an aptly titled release that does indeed push boundaries without pushing the listener off that proverbial lyrical cliff.
Shah has a soft yet clear voice and phrasing that some of her contemporaries twice her age are still struggling for. The originals "Moray" and "My Time Is When" give a remarkable insight as to the potential that is smoldering within the lyrical soul of Shah. Covers and reharms of "Visions" from Stevie Wonder and the Joni Mitchell classic "Little Green" blow dust off some pop music relics and we are left with organic tunes that are new, fresh in approach and harmonically inventive. Fourteen musicians joined Shah for this global summit with some stand out names including Linda Oh, Steve Wilson, and Michael Valeanu. The addition of the string quartet conducted by Miho Hazama was a stroke of genius and adds a slightly deeper yet eclectic texture that pushes that three dimensional sonic depth of field throughout the release.
Negatives? There may be a composition or two that might not make that global transformation as well given the multi-cultural harmonic possibilities at play. To grind on that would be hyper-critical at best and admittedly perhaps more my issue that any real negative you could hang on the release. Visions leaves you wanting more. Organic, eclectic, ambient and ethereal only begin to touch on the myriad of sonic presentations contained in this stellar debut release.
Tracks: Sodade; Visions; Little Green; Table Interlude; Paper Planes; Triste; Moray; Deluge; Oju Oba; My Time Is When; Rag Desh: Alaap; Rag Desh: Teentaal Gat; Rag Desh: Meltdown; Sodade Postlude.
Personnel: Kavita Shah: Voice; Lionel Loueke: Guitar, Voice (1,9,14); Steve Wilson: Sax, Flute (5,6,8); Yacouba Sissoko: Kora; Stephen Cellucci: Tabla; Steve Newcomb: Piano / Rhodes; Michael Valeanu: Guitar; Linda Oh: Bass; Guilhem Flouzat: Drums; Rogerio Boccato: Percussion; Miho Hazama: Conductor; Curtis Stewart: Violin; Tomoko Omura: Violin: Nick Revel: Viola; Will Martina: Cello.
Check out the brand new music video with Lionel Loueke below!!