Mr. O'Farrill has honed the Afro Latin Jazz Orchestra to handle
dizzyingly complex music with earthy joy.
New York Times
STAR PIANIST/COMPOSER/BANDLEADER/EDUCATOR ARTURO O'FARRILL AND
THE AFRO LATIN JAZZ ORCHESTRA DEBUT ON MOTEMA MUSIC WITH
THE OFFENSE OF THE DRUM
(
May 6, 2014
)
* * *
FEATURING 28 TYPES OF PERCUSSION AND SPECIAL GUESTS VIJAY IYER,
DONALD HARRISON, RAPPER CHILO, DJ LOGIC, EDMAR CASTAÑEDA & MORE
* * *
CD CELEBRATION
MAY 10
@ THE APOLLO THEATER AS PART OF THE
APOLLO's 80th ANNIVERSARY AND THE HARLEM JAZZ SHRINES FESTIVAL
GRAMMY® Award-winning pianist, composer, bandleader and educator Arturo O'Farrill personifies the stereotype of a busy, fast-talkin' New Yorker from Brooklyn with big dreams. He also personifies success, as somehow he keeps achieving these dreams with the help of his mighty and much awarded Afro Latin Jazz Orchestra (ALJO). This May their m
úsica nueva
creative vision converges around their debut

May 6

on the Harlem-based, GRAMMY® Award-nominated independent innovator label, Mot
éma Music, and their performance

May 10

at Harlem's legendary Apollo Theater to officially release The Offense of the Drum.
O'Farrill runs the Afro Latin Jazz Alliance (ALJA), his acclaimed nonprofit music performance, education and preservation organization (which includes the ALJO) from Harlem too. For over 20 years, O'Farrill has been beating the drum about the heritage and impact of Afro Latin jazz and creating music education programs for children of New York City and beyond. The son of the beloved Cuban bandleader Chico O'Farrill, O'Farrill has the language of music coursing through his head, heart and body at all times, as anyone who has sat down to chat with him discovers. He shares his vision of the future of Afro Latin jazz and his notion of a
m
úsica
nueva.
My artistic vision is to bend what the world knows as Afro Latin jazz over the acoustic horizon. Música nueva is that new direction for us, and it emerged from collaborations with the great artists and friends on The Offense of the Drum. Everything we do is about access and border crossing - making music, informing its creation with music of the world, making it available to all generations and making it a great experience. Ultimately I'm here to tell and share stories, and drums have been the center of storytelling for centuries in Afro Latin cultures. That means the drum can be seen as offensive to anyone trying to control people's freedom of expression.
Indeed The Offense of the Drum
examines the role of the drum as a vehicle for resistance and liberation and
is the result of O'Farrill's restless curiosity, deep musical knowledge, adventurous creative spirit and of his friendships with fellow musical innovators.

The recording joins elements of the
música nueva
aesthetic

: an 18-piece big band; a harpist; turntables; jagged-edged percussion; and vocals. The connective tissue among these seemingly disparate parts is the drum - 28 percussion instruments
from almost every corner of the globe: taiko from Japan; djembe from Africa; barriles and bombas from Puerto Rico; tumbadoras from Cuba; bombos from Colombia; cajons; maracas; bongos; shekeres; claves; cowbells; cuicas; tambourines; timbales; and turntables.
Also featured are
multi-genre special guests

:
Vijay Iyer
(piano), DJ Logic (turntables), Edmar Castañeda (harp), Christopher "Chilo" Cajigas (spoken word), Donald Harrison (vocals, alto sax), Antonio Lizana (vocals, alto sax),
Chad Lefkowitz-Brown
(tenor sax)
, Pablo Mayor (guest conductor,maracas), Samuel Torres (guest conductor, cajon), Miguel Blanco (guest conductor), Jason Lindner (guest conductor), Pablo O. Bilbraut (percussion), Ayanda Clarke (djembe),
Jonathan Gómez
(percussion)
,
Nestor Gómez
(percussion),
Hiro Kurashima
(taiko drum) and
Uri
Sharlin
(accordion). Joining with
the stars of the Afro Latin Jazz Orchestra, each player brings unique flavor to this international Latin jazz party that shows where Cuba meets New Orleans, Spain, South America and Africa - all
regions that gave birth to the jazz aesthetic.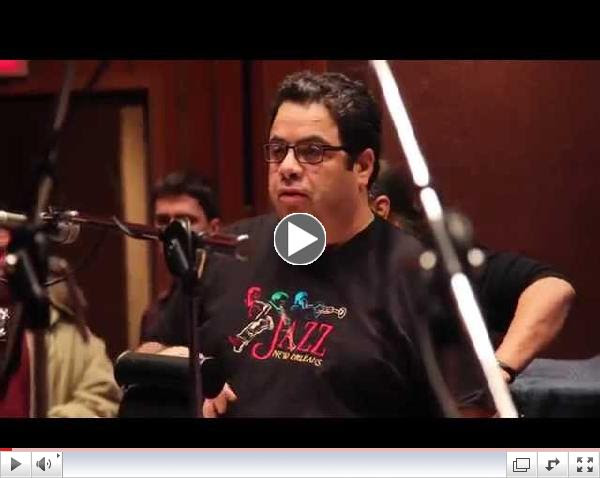 Arturo O'Farrill & the Afro Latin Jazz Orchestra | The Offense of the Drum
O'Farrill's two-part title suite, "The Offense of the Drum: As Oppressor & As Liberator," was inspired by drum circles in New York City being outlawed and reflects the reality of the drum being a politically charged voice for change. The suite is the heart of the CD and features
Kurashima, Clarke and Lefkowitz-Brown.
The CD opens with "Cuarto de Colores" featuring Colombian Castañeda casting a sonic spell. "They Came" by Chilo and Lindner is a contemporary composition with a hip hop/ reggaeton groove about the contributions Puerto Ricans made to American culture. O'Farrill's "
On the Corner of Malecón and Bourbon" explores the relationship between Cuban and New Orleans culture. Mayor's composition "Mercado en Domingo" showcases Colombian flair and leads into Erik Satie's reflective "

Gnossienne 3 (Tientos)" conducted by Blanco and featuring Lizana and Sharlin.
Iyer's "The Mad Hatter" pulses along in an odd meter in homage to O'Farrill, the ultimate mad hatter. Blanco composed and conducted the salsa-flavored "Alma Vacia." Fittingly the party closes with James Crawford's classic anthem "Iko Iko" featuring New Orleanian Donald Harrison sealing the deal on the Cuba-New Orleans legacy. The ALJO is: (saxophones) Ivan Renta, David DeJesus, Bobby Porcelli, Peter Brainin, Jason Marshall; (trumpets) Jim Seeley, Seneca Black, John Bailey, Jonathan Powell; (trombones) Rafi Malkiel (and euphonium), Tokunori Kajiwara, Frank Cohen, Earl McIntyre (bass trombone, tuba); O'Farrill (piano) as music director; (bass) Gregg August; (drums) Vince Cherico; (congas) Roland Guerrero; and (bongos/bell) Joe Gonzalez.
Co-producers are O'Farrill, Todd Barkan, Eric Oberstein and Kabir Sehgal.
CD RELEASE:

MAY 10

@ THE APOLLO THEATER
Part of 80th Anniversary of The Apollo & 4th Harlem Jazz Shrines Festival
* Rudresh Mahanthappa * Randy Weston * DJ Logic & MORE
Headlining at the Apollo Theater is a significant recognition of musical accomplishment for anyone. It's particularly exciting for O'Farrill, who works in Harlem and who, like his father, represents the long great history The Apollo has of melding African American and Latin musical traditions. On
May 10
, in honor of that legacy, O'Farrill & The ALJO will perform his "Afro Latin Jazz Suite," a commissioned work by The Apollo to pay
tribute to the 65th anniversary of Chico O'Farrill's "Afro Cuban Jazz Suite."
O'Farrill will feature
Rudresh Mahanthappa
,
Freddy ''Huevito'' Lobatón
and
Café
. The cultural diplomat that he is, O'Farrill will also offer
Randy Weston's "African Sunrise Suite
" in honor of Weston and will feature W
eston, Billy Harper, Lewis Nash
and the
ALJO
.
Rapper Christopher "Chilo" Cajigas
and
DJ Logic
will join O'Farrill to celebrate the CD release of The Offense of the Drum. The engagement kicks off the 4th annual Harlem Jazz Shrines Festival and is part of The Apollo's 80th anniversary festivities.
8PM

. $10-55. 235 W. 125th St.
www.apollotheater.org
BIOGRAPHY
O'Farrill is a classic New York story having moved to the city at age four from Mexico, but not too many New Yorkers have a street named after their father. Cuban, Mexican, Irish and German, O'Farrill has explored the multicultural world his entire career. It's what informs the wide-ranging nature of his music and activities, including his long-standing cultural diplomacy work to build bridges between the U.S. and Cuba. In 1995 O'Farrill agreed to direct the Chico O'Farrill Afro Cuban Jazz Orchestra to preserve his father's legacy. After leading his father's band at New York City's famed Birdland Jazz Club for 15 years, O'Farrill now leads a weekly
Sunday
residency there with his own band, the ALJO. After touring with Carla Bley and performing/recording with Dizzy Gillespie, Steve Turre, Freddy Cole, The Fort Apache Band, Lester Bowie, Wynton Marsalis and Harry Belafonte among others, O'Farrill created the ALJO to showcase Afro Latin jazz and its cultural influence. Featured at Jazz at Lincoln Center from 2002-2007, O'Farrill created ALJA in 2007 as an independent nonprofit performance, education and preservation organization that could also house ALJO. ALJA presents annually at Symphony Space. O'Farrill is on faculty at Brooklyn College and is a resident of Brooklyn with his musical family.