American Pianists Association
Announces Finalists for the $100,000 Jazz Prize
Five Finalists Scheduled for Special Kickoff Performance at
The Rubin Museum of Art on

Wednesday, May 21 at 7PM
Joel Harrison, President/CEO and Artistic Director of the American Pianists Association announces the five Finalists for the American Pianists Association's Jazz Fellowship Awards presented by REI Real Estate Services. The five Finalists, in no particular order, are: Kris Bowers, Christian Sands, Zach Lapidus, Emmet Cohen and Sullivan Fortner.
The Finalists will compete September 2014 - February 2015 in Indianapolis, Indiana. On

March 27, 2015

, the Semi-Finals will take place at The Jazz Kitchen. And on

March 28, 2015

, the Finals will take place at Hilbert Circle Theatre with featured Grammy® Award-winning vocalist Dee Dee Bridgewater and the Buselli Wallarab Jazz Orchestra. The Finals will be judged by pianists Amina Figarova

,

Bill Charlap

, as well as Mack Avenue Records Executive VP of A&R

Al Pryor

and

will be streamed live featuring webcast host Christian McBride here:
AmericanPianists.org
. The winner will be named the American Pianists Association's Cole Porter Fellow in Jazz.
In partnership with NPR-affiliated jazz radio station WBGO, the American Pianists Association will host a kickoff gathering in New York City at The Rubin Museum of Art on Wednesday, May 21 at 7pm. The evening will feature each of the five Finalists performing one composition, which is inspired by a work of art at the museum. Tickets will be available online

Sunday, April 27

through the Rubin Museum website's 'special concerts' page here:
RubinMuseum.org
The Cole Porter Fellowship, valued at $100,000, includes a $50,000 cash prize (the largest prize in the world for a young jazz pianist), a recording contract with Mack Avenue Records, and career assistance and engagement for two years. Judges for the final rounds of the 2015 Cole Porter Fellowship in Jazz
The mission of the American Pianists Association is to advance the careers of American jazz and classical pianists between the ages of 18 - 30. The organization was founded in 1979 in New York City and has been in Indianapolis since 1982. Past winners have included Aaron Diehl, Dan Tepfer and Aaron Parks, among esteemed others.
Kris Bowers
/ 25 / Los Angeles, CA
Winner of the 2011 Thelonious Monk International Jazz Piano Competition and graduate of The Juilliard School who was selected to perform at the 2012 NEA Jazz Masters Award Ceremony at Lincoln Center as well as performing on Jay-Z and Kanye West's Watch the Throne and with artists such as Marcus Miller, Aretha Franklin, Q-Tip, and José James.
Christian Sands
/ 24 / New York, NY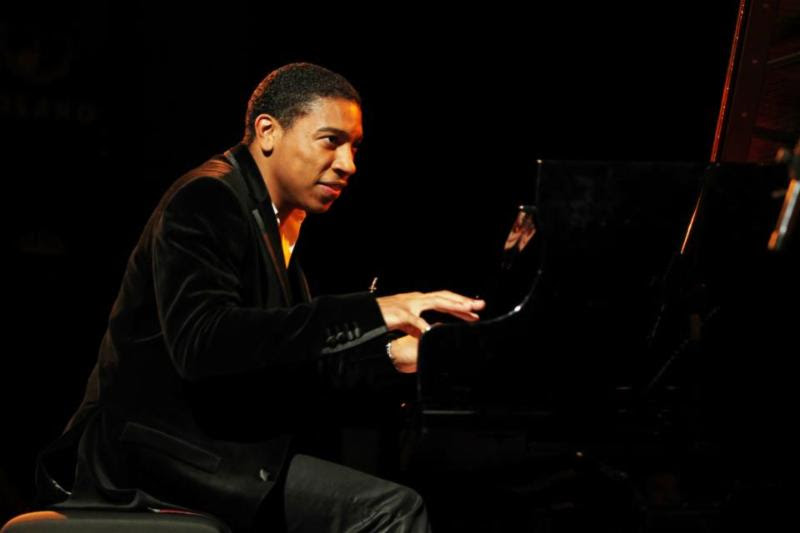 Two-time Grammy® Award-nominated pianist who is a member of the Christian McBride Trio, has performed at the 2006 and 2007 Grammy® Awards including a highly publicized duet with pianist Oscar Peterson, and has played with Lou Donaldson, Wynton Marsalis, Kirk Whalum, Rufus Reid, Derrick Hodge, James Moody, and Phil Woods.
Zach Lapidus
/ 27 / Indianapolis, IN
Recipient of a fellowship at Ravinia's Steans Institute for Young Artists who has been featured on broadcasts such as NPR's Morning Edition, Jazz Set with Dee Dee Bridgewater and Voice of America as well as performing with Bobby Watson, Rich Perry, Maurice Brown, Dee Dee Bridgewater, and Wycliffe Gordon.
Emmet Cohen
/ 23 / Miami, FL
Finalist in the 2011 Thelonious Monk International Piano Competition and selected to play in the 2008 Gibson/Baldwin Grammy® Jazz Combo, the Monterey Jazz Festival's 2008 Next Generation Jazz Orchestra, and recipient of the 2009 NFAA Clifford Brown/Stan Getz Fellowship who has performed with such great musicians as Christian McBride, Joshua Redman, Carmen Bradford and Billy Hart.
Sullivan Fortner
/ 27 / New Orleans, LA
Recipient of the prestigious Leonore Annenberg Fellowship, graduate of the Oberlin Conservatory of Music and Manhattan School of Music under the tutelage of Jason Moran and David Liebman as well as performing as a member of the Roy Hargrove Quintet and playing with the likes of Theo Croker, Dee Dee Bridgewater, Ambrose Akinmusire, Christian Scott and Stefon Harris.
____________________________________________________________
The preliminary round of the competition was held February 22 - 25, 2014, in Indianapolis by a group of 5 nationally-distinguished professionals, including: Brent Wallarab, Specialist in Jazz for the Smithsonian Institution, trombonist for the Smithsonian Jazz Masterworks Orchestra (the jazz ensemble-in-residence of the National Museum of American History), and teacher at the Jacobs School of Music of Indiana University in Bloomington; Dana Landry, Director of Jazz Studies at Northern Colorado University in Greeley and Artistic Director of UNC/Greeley Jazz Festival; Jay Harvey, arts blogger and journalist of 42 years (26 years for the Indianapolis Star); John Salmon, jazz and classical pianist, 1983 Fellow of the American Pianists Association and a member of the faculty of The University of North Carolina at Greensboro School of Music since 1989; and Phil DeGreg, pianist and alumnus of the Woody Herman band and Professor of Jazz Studies at the University of Cincinnati's esteemed College Conservatory of Music.
According to Harrison, the jury heard, in anonymous fashion, the music submitted by the 42 pianists nominated earlier this year for the awards. Says Harrison, "Recent winners of this competition have been highly successful and are enjoying much acclaim. Given the level of talent and distinguished achievement of the 2015 Jazz Finalists, I am confident the record of success will continue."