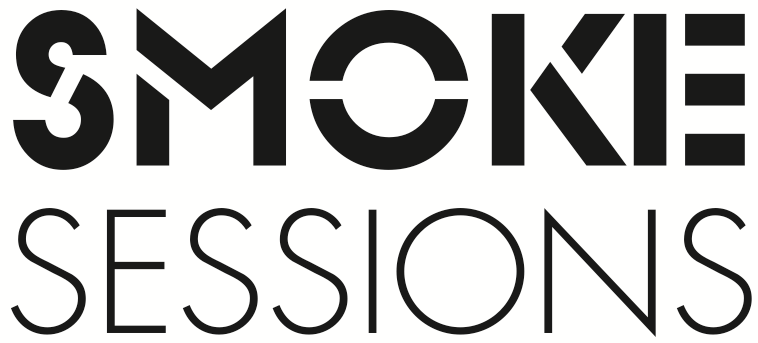 Smoke Sessions Records Launches with
New Releases
b

y Harold Mabern, Vincent Herring,
Javon Jackson, and David Hazeltine
Photo Credit: Jimmy Katz
After surviving for almost 15 years in the white-knuckle world of running a New York City jazz club, Smoke co-owners Frank Christopher and Paul Stache decided that they were up for yet another daunting challenge, starting a jazz record label. Awed and inspired over the years by the music all around them, it was their dream to document and share it beyond the limited seats of the club. In the spring of 2013, they quit dreaming and instead recruited their friend Damon Smith to help turn the dream into a reality, Smoke Sessions Records.
The label's initial focus is on the music and musicians associated with the club. Guided by the golden age of independent jazz labels like Blue Note, Prestige, and Riverside,
Smoke Sessions'
ambitious plans are to release 10 to 20 new titles annually with 9 scheduled (one per month) through September 2014 and another full slate arriving starting again in January 2015. The first four titles are
Harold Mabern
's
Right on Time
(available now),
Vincent Herring
's
The Uptown Shuffle
(available now),
Javon Jackson'
s
Expression
(available now) and
David Hazeltine
's
For All We Know
(available
April 8
). Also arriving in 2014 are new titles from
Louis Hayes
,
Jimmy Cobb
,
Cyrus Chestnut
,
Orrin Evans
, and
Eric Reed
. Initially, the label planned to record live performances at Smoke exclusively, but future titles starting this year will also include studio sessions.
All Smoke Sessions releases are produced using vintage techniques and audio paths - i.e.; Rupert Neve-designed mixing consoles (Amek-Angela), Studer mastering decks, and Manley tube equalization - in combination with modern high definition recording techniques. Label co-founder Stache records the sessions then works closely with GRAMMY® Award-winner Roman Klun to mix and master them. Each releases features original photography by Jimmy Katz, as well as an original 2,000-word artist interview. The limited edition 200-gram audiophile collection was mastered for vinyl by celebrated engineer Kevin Gray and includes a classic "tip-on style" gatefold record jacket. Smoke Sessions titles are available on deluxe compact disc albums and as high resolution digital downloads; a 200gram audiophile vinyl compilation celebrating the first four releases is also available.
...............................................................................................................................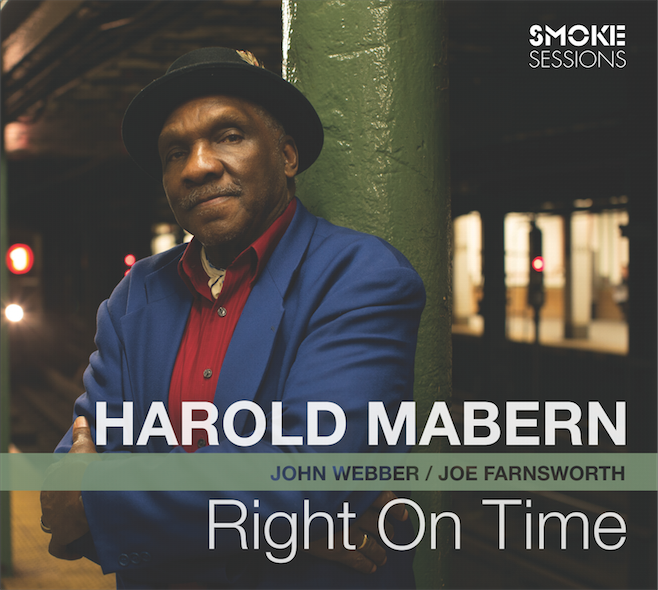 "He blends the soul of Memphis with the madness of Manhattan and a life experience as
one of the music's outstanding pianists to create musical muscle that immediately
draws you in and a sensitivity that keeps you there. Anytime is the
right time for Harold Mabern!" - WBGO
The label's first title, Right On Time, is by the jazz piano eminence Harold Mabern. It's a fitting debut for Smoke Sessions as Mabern's frequent presence at Smoke over the years was instrumental in making it a major jazz destination. While most people his age are enjoying retirement, Mabern is still happily in the trenches in the sixth decade of his illustrious career. Clearly, he still has a lot to say.
Recorded over the weekend of his 77th birthday celebration in March 2013, Right on Time--which he dedicates to his idol, and fellow Memphis piano giant, Phineas Newborn, Jr.--captures all of the highlights of his two nights at Smoke with bassist John Webber and drummer Joe Farnsworth, one of his two working trios. Mabern knows a thing or two about putting together a balanced musical program and he draws on an extensive repertoire for this title including classic blues, swinging standards, moving ballads, and modal tempests.
Always on the lookout for material from outside the jazz box, Mabern opens Right on Time with Peter Brown's disco hit "Dance with Me." He finds another surprising gem in plain sight with the well-known Theme to Laverne and Shirley "Making our Dreams Come True." He also includes some of his favorite composers-Richard Rodgers, Thad Jones, Henry Mancini, and Hoagy Carmichael-and delivers an unusually melancholy and particularly beautiful rendition of "Don't Get Around Much Anymore." There is a blistering, bebop reading of "Cherokee," as well as "Seven Steps to Heaven" conceived during his time with Miles in the '60s and his own beloved original, "Edward Lee" dedicated to trumpeter Lee Morgan. Finally, he builds the ebulliently swinging "Blues for Frank 'n' Paul 'n' All" from another unlikely source-the outgoing message on his answering machine. It was a melodic fragment that proved so popular with fellow musicians that he "finished it" with an ending and now dedicates it to the entire Smoke family.
Many consider Mabern the very definition of a "jazz master," and Right On Time is just the most recent evidence that it's high time that the National Endowment for the Arts officially makes him a Jazz Master, too.
Harold Mabern · Right on Time
Smoke Sessions Records
·
Release Date:
January 7, 2014
...............................................................................................................................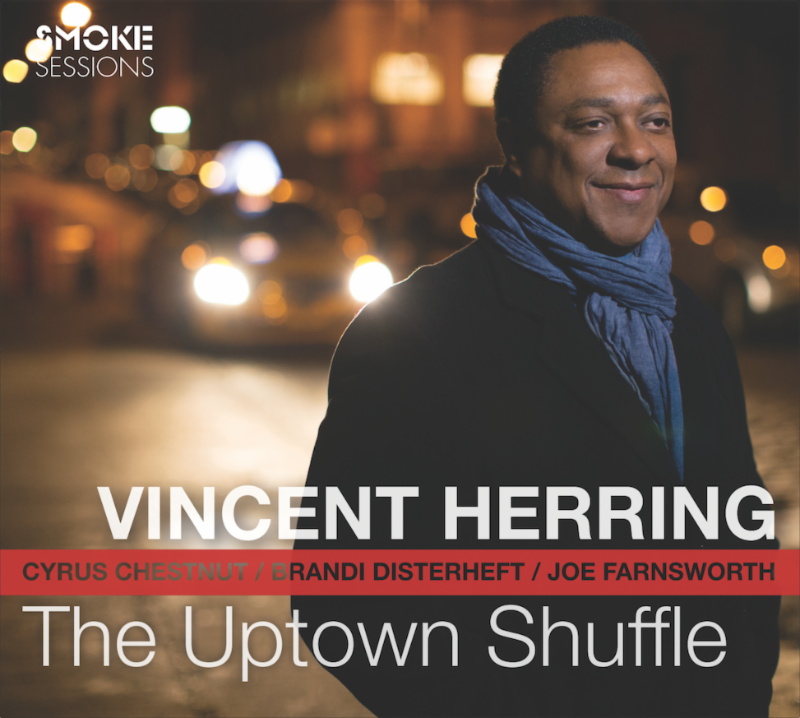 "Alto saxophonist Vincent Herring drives his quartet through a straight-ahead set
that packs a wallop with a double-fisted bout of unrelenting swing." - Downbeat
Vincent Herring's M.O. is well known-he means business. Not that you can tell from the pure joy that emanates from his horn, but like Bird, Cannonball, and Stitt, there is purpose, meaning, and, yes, a little gravity in every note he plays. Herring describes his time spent studying with bebop master Phil Woods as a pivotal moment in his development. It instilled in him a sense of responsibility to assume the mantle of a vital artistic tradition, which, for the past quarter century, is exactly what he's done. With his no-holds-barred solos and unerring aesthetic compass, he's made more than a few great records during that time, but his latest release on Smoke Sessions, The Uptown Shuffle might just be the best one yet.
Like so many classic jazz records, The Uptown Shuffle arrives with a rousing opener, Herring's aptly titled "Elation." He explains that he wrote this theme over 20 years ago to express a feeling of just pure joy. It was never exactly how he wanted it though, until just recently. It might also be the perfect introduction to his quartet. Soulful pianist Cyrus Chestnut, Canadian bass newcomer Brandi Disterheft and the reliably swinging drummer Joe Farnsworth have real chemistry from start to finish. Even when this band slows things down, as they do on timeless favorites like "Love Walked In" and "Tenderly," their intensity and passion never waver. Herring frequently talks about choosing personnel and material based "on a feeling" and that he used that approach to put together this date. He said he knew going in that he had the band he wanted and that when they ran down tunes in rehearsal, the ones included here were the ones that "just clicked."
The Uptown Shuffle was recorded live "uptown" at Smoke Jazz Club in front of a packed house of admirers. There is certainly energy and elation present in these performances and they do capture the spirit and excitement of a night out in New York.
Vincent Herring · The Uptown Shuffle
Smoke Sessions Records · Release Date: February 4, 2014
...............................................................................................................................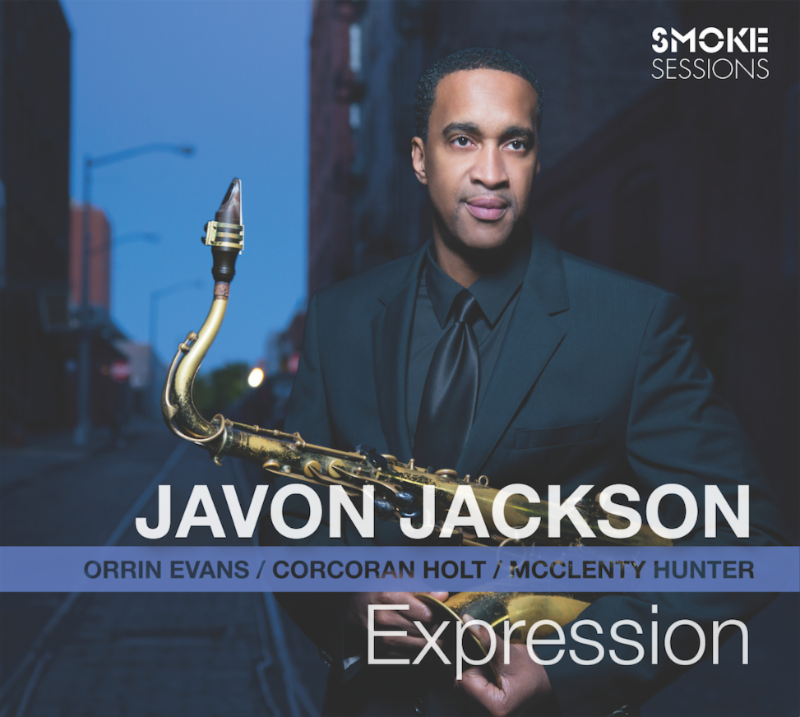 "Throughout the set he (Javon) runs a streak of intricate lines and swinging turns-of-phrase,
no doubt inspired by his audience and driven by a solid band." - New York City Jazz Record
In 25 years as a recording artist, tenor saxophonist Javon Jackson had never made a live record as a leader...until now. With his new Smoke Sessions title Expression, the wait is finally over. To an instinctive perfectionist like Jackson, live recording presents a different set of challenges from a studio session, but he did learn first-hand from none other than Art Blakey, after all, to prepare, prepare, prepare and then leave it all on the stage. In fact, Jackson opens the record with Wayne Shorter's "One by One" which famously appeared 50 years ago on one of Blakey's many live recordings, Ugetsu. The results have a natural energy and relaxed quality that are difficult to capture in the studio. This record documents some of Jackson's personal favorites and he credits the live atmosphere for delivering what he feels are his definitive versions.
He includes modern classics like Stevie Wonder's "Don't You Worry 'bout a Thing," Donnie Hathaway and Roberta Flack's hit "Where is the Love," and the timeless "When I Fall in Love," that are trademark Javon-accessible but enlightening.
The quartet, called the Javon Jackson Band, features bassist Corcoran Holt, drummer McClenty Hunter and, for the first time, Orrin Evans. One of the busiest pianists in Philadelphia or in New York, Evans fit in with the group instantly and Jackson valued the fresh approach and playing that he brought to the music. A striking example of their rapport is the groove they strike on George Cable's '70s classic "Think on Me." It's a certifiable hit but there is simply a lot of great music on Expression. With a record this good, it's a safe bet that Jackson won't wait another 25 years to make the sequel.
Javon Jackson · Expression
Smoke Sessions Records · Release Date: February 25, 2014
...............................................................................................................................
"He plays with lyricism, occasional cleverness and constant elegance, leading with a
self-assurance that never delves into self-indulgence." - New York City Jazz Record
David Hazeltine is known for his harmonic sophistication and elegant pianism, traits that were also hallmarks of Cedar Walton's playing. When Hazeltine initially set out make what would become his Smoke Sessions release, For All We Know, making a tribute record was the furthest thing from his mind and it should be pointed out that For All We Know is definitely not a tribute record. Yet, it's hard to ignore the importance of Cedar Walton's legacy to it. Hazeltine is one of the important heirs to Walton's piano tradition, so it is only natural that his gratitude and affection would be dominant themes on this recording. It is also a special record because it documents what is essentially the first collaboration between Hazeltine and tenor saxophonist Seamus Blake. It was a partnership that both enjoyed immensely and that worked particularly well with the rest of the quartet, bassist David "Happy" Williams and drummer Joe Farnsworth.
The album opens with one of Hazeltine's inventive originals, "Et Cedra" which is also one that was overtly written with Walton in mind. In it's melodic twists and turns and it's subtle yet unexpected harmonies, it is quickly apparent why Hazeltine has such a strong following. Other highlights include Kurt Weill's "My Ship" and Hazeltine's obstreperous "Eddie Harris" which gives Blake an opportunity to pay some respects of his own, this time to the funky saxophone master. When For All We Know concludes with "A.D. Bossa," the realization sets in that although jazz has lost some of its greatest talents, there is another generation that is dedicated to keeping the art form vital and alive.
David Hazeltine · For All We Know
Smoke Sessions Records
· Release Date:
April 8, 2014