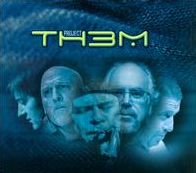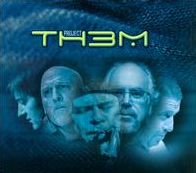 An amazing melodic manipulation of contemporary post bop!
Brent Black / www.criticaljazz.com
Most all star bands are one shot wonders whose efforts lack depth, character and any tangible reason to come back for a second listen.
Project Them blows predictability right out of the water with an amazing collective of true virtuoso talent that transforms post bop onto a far more accessible plane than any of their contemporaries have in recent years. This amazing band plays with the intimacy of a smaller ensemble yet with an exploratory effort that embraces that rare working band sound all too absent in today's marketplace. Mark Sherman is simply a beast on vibes, his percussive punch and relentless swing is the backbone of an ensemble that boasts such notables as Mitchel Forman, Bob Franceschini, Adam Nussbaum, Martin Gjakonovski, and Paolo Di Sabatino. There is ample room for each artist to explore their own creative voice and the synergy created within the band borders on infectious. This collaboration between Sherman and Franceschini is fresh, original and squarely on the cutting edge of the new sound for modern jazz.
At times raw and edgy and at times dialed down there is an amazing spatial quality or what I refer to as the three dimensional sonic depth of field. Franceschini is stunning on tenor and is perhaps the most overlooked and underrated player going. Mark Sherman has a chameleon like ability to adapt to changing meters and create a deep rich color pallet that pianist Mitchel Forman takes to with the finesse of a surgeon. Gjakonovski and Di Sabatino round out a stellar rhythm section with deliciously subtle nuances and flavor that elevates the ordinary to an extraordinary level of lyrical bliss. The ballad "Close Enough For Love" and a more old school goes new cool approach of "Submissive Dominants" creates an amazingly accessible dynamic tension here that is organic and raw while maintaining a solid swing that would rival any similar ensemble but...there are none!
A reader once told me at times I sound jaded, over five thousand review in 3 years can do that. Project Them is one of the handful of releases I have heard during that time that bleeds excitement for the music back into my system...I appreciate that.
If you can purchase but one more recording this year, make it this one!
Tracks: Submissive Dominants; Sleight Of Hand; We 3; Solitude; The South Song; Minor Tunes; Close Enough For Love; A Short Swing; Ma Bo's Waltz; Angular Blues.
Personnel: Bob Franceschini: Tenor Saxophone & Flute; Mark Sherman: Vibraphone; Mitchel Forman: Piano & Organ; Martin Gjakonovski: Bass; Adam Nussbaum: Drums; Paolo Di Sabatino: Piano.
www.markshermanmusic.com