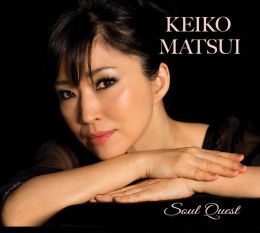 Keiko Matsui continues her musical quest with her finest release to date.
Brent Black / @CriticalJazz
For an artist to maintain their consistency while still managing to bring new fans into the fold is a rarity in music. As happens on occasion, I am a little late to this party. Keiko Matsui has made a brilliant transformation from a more global oriented vibe to that of a more contemporary instrumental artist without losing one iota of her harmonic wheelhouse. Soul Quest utilizes a deceptively subtle global fusion with the more contemporary instrumental music from the radio format formerly known as smooth jazz.
Matsui's last studio release The Road was a hint of what was to come with Soul Quest which reaffirms that her versatility as a composer runs far deeper than a pretentious vibe that is cool to lay claim to but virtually impossible to explain. Keiko Matsui's virtuoso talent ranks along side her contemporaries such as Bob James or Ramsey Lewis in depth, feeling and emotional connectivity. Joining Matsui we have

Chuck Loeb, Marcus Miller, Will Lee, and Kirk Whalum. Another stellar guest appearance is from drummer Narada Michael Walden to add just the right amount of pop and elevate the flavor from the predictable sound other artists seem content to languish in to a far more solid and deliberate groove with a righteous harmonic foundation and technical proficiency long missing in this somewhat stereotypical genre.
From the vibrant "A Night With Cha Cha" to the more cinematic "Antarctica - A Call To Action" we have Matsui flexing her compositional musical with a delightful variety of tunes all working magically together to create that lost art of ebb and flow. A throwback pianist with mad skills for the next generation, Matsui firmly establishes herself at the very top of the contemporary jazz food chain and in a position she should become very comfortable with in short order.
I run hot and cold with some contemporary jazz and on occasion border on the hypercritical. Soul Quest is as solid a release you will hear this year. Nothing to grind on here.
Tracks: Dream Seeker; Black Lion; Top Secret; A Night With Cha Cha; Moving Mountain; Antarctica - A Call To Action; Soul Quest; Proof; Two Hearts; Stingo.
Personnel: Keiko Matsui: Piano, Keyboards, Vocals; Chuck Loeb: Guitar, Keyboards, Programming; Brian Dunne: Drums; Will Lee: Bass; Andy Snitzer: Soprano Saxophone; Grecco Buratto: Acoustic Guitar; Fernando Saunders: Bass; Derek Nakamoto: Keyboards, Drum and Loop Programming; Giulio Carmassi: Trumpet; Will Lee: Bass; Kirk Whalum: Tenor Saxophone, Soprano Saxophone; Narada Michael Walden: Drums, Vocals, Programming; Marcus Miller: Bass; Matthew Charles Huelitt: Guitar; Jimi Reitzel: Organ, Keyboard; Eric Baines: Bass; Derek Nakamoto: Keyboards and Sequencing; Cameron Stone: Cello; David Mann: Horn Arrangement, Saxophone and Flute;
www.shanachie.com
www.keikomatsui.com