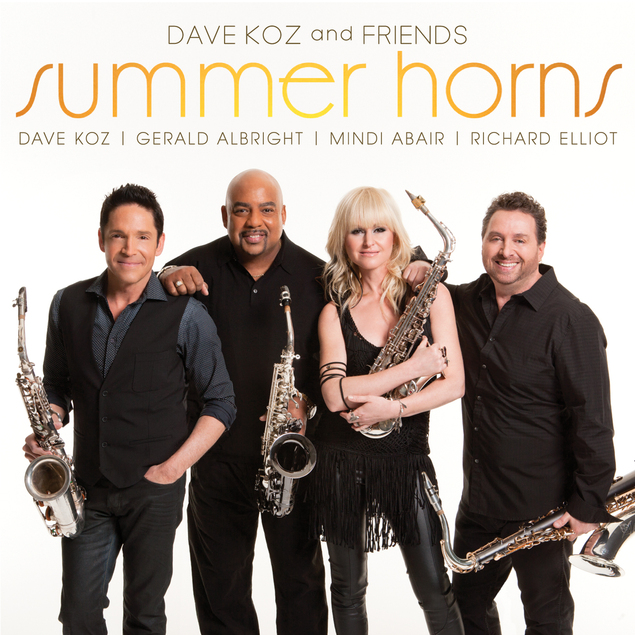 Remember when...
If you are my age and in that forty something age group then you remember that summer meant good times, good friends and great music! Dave Koz remembers and thanks to a little help from his friends Gerald Albright, Mindi Abair and Richard Elliot the summer releases from the late 60's and mid 70's live again in what has to be a dream release for saxophone fans!
You know the musical co-conspirators here with Grammy winner Gerald Albright, the incredibly versatile Mindi Abair and former member of Tower of Power the incomparable Richard Elliott. Toss in tunes including their own riff on the Earth Wind & Fire arrangement of "Got To Get You Into My Life" along with the classic album radio smash from Chicago "25 or 6 to 4" and the end result may well be "the" contemporary release for the summer of 2013. Additional guest artists include Michael McDonald, Jeffrey Osborne and Brian Culbertson (on trombone!). The tunes are eclectic in nature and incredibly well balanced running the sonic spectrum from the straight ahead classic "Take Five" to a righteous funk infused Jonathan Butler joint with Stevie Wonder's "You Haven't Done Nothin'." Rick Braun also makes an appearance and reinforces the fact that the arrangers play an integral role in the success of this project. Greg Adams who was the chief horn arranger for Tower of Power along with Tom Scott and Gordon Goodwin combine their talents with spectacular results. Legendary producer and guitarist Paul Brown drops by to solidify this all star line up and elevates a good recording to a level of greatness seldom reached in contemporary jazz that finds itself walking down the smoother side of the street.
For those that may struggle with the smoother side of jazz, Summer Horns is as cool as the other side of the pillow and is a far cry from what one may hear in the elevator of their doctors office.
Fresh off his critically acclaimed live release, Dave Koz and Summer Horns would have to be a critics best friend as this is a review that literally writes itself. A brilliantly balanced recording to appeal to all tastes. Dave Koz crushes this project!
Tracks: Always There; Got To Get You Into My Life; Rise; So Very Hard (featuring Michael McDonald); Hot Fun In The Summertime (featuring Brian Culbertson); Take Five; 25 or 6 to 4; Reasons; I Got You (I Feel Good); You Haven't Done Nothin' (featuring Rick Braun and Jonathan Butler); God Bless The Child (featuring Jeffrey Osborne).
Bonus Tracks: Summer Horns.