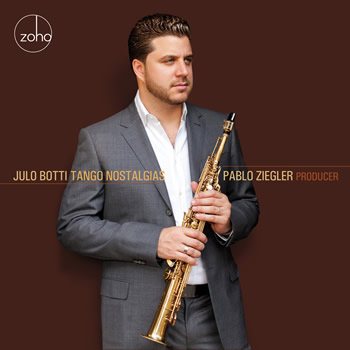 The good news is the women will eat this guy up with a spoon, the bad news is Botti is happily married to his music. Zoho's debut introduces a fresh voice to the nuevo tango movement when it needed it most. While this movement was pioneered years ago with by Astor Piazzolla and Pablo Ziegler, it was not done so with Juli Botti's soaring soprano in mind. The arrangement here seem to add color and clarity to a movement that was mired in a stagnant mire that it could not seem to pull itself out of.
Ziegler's regular trio of Quique Sinesi on guitar, Walter Castro on bandoneon and the maestro himself have managed to breath new life into an older some what forgotten catalog. With the augmentation of Horacio Sinsi on guitar and Walter Castro on bandoneon along with the maestro himself who is adeptly covered if not colored by Horacio Hurtado on acoustic bass and Quintino Cinalli on percussion and drums, Tango Nostalgias is Botti's auspicious stateside debut and be embracing his Argentinian root, Botti has essentially discovered his own voice on his chosen instrument. Botti met the great Pazolla who advised Botti to shift gears. "Don't think in jazz, think in phrases, and in Buenos Aires time. The results speak for themselves.
The release is jump started with a lively Celtic Feast that Botti had yet to record. Unison and counterpoint rule the day as this particular tune puts the paddles to music that seemingly passed away years earlier. The rhythmically charged Imagenes 676 is Pizzolla back to basics. Intricate melodies, counterpoint and bold improvisational playing was the break through release for the U.S. titles Zero Hour. The delicate if not intimate ballad El Vals is essentially a trio of Sinesi on guitar, bassist Hurtado and the great Botti with some foot to the floor action on soprano and tenor.
Going from soprano to tenor is like riding a bike for some. The dark hued resonant tones of the tenor capture the Argentinian sound and highlight a lovely call and response type playing throughout the recording.
4 Stars.
Special thanks to Jim at Jazz Promo Services
http://wwwjuliobotti/com
http://wwwpabloziegler.com
Label
http://www.zohomusic.com