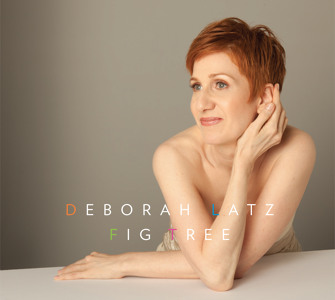 Who doesn't like a good review? There are a plethora of "Independent" singers working in New York City but only a handful of vocal artists. Allow me to introduce the 3rd CD from Deborah Latz which hits the streets on May 7, 2013.
Don't take my word for the talent here, 2012 NEA Jazz Master Sheila Jordan perhaps writes the review for me when she states in the liner notes, "Deborah is a beautiful singer and great talent. Fig Tree is wonderful! Really wonderful!
Achieving the stamp of approval from the legendary Sheila Jordan lets people know Latz has arrived and is here to stay. While I have on occasion been overwhelmed with female vocal talent, the strength of Latz is two fold. Impeccable phrasing allowing her to take some mid tempo tunes and flip them into heart wrenching ballads. "Blue Skies" has an infectious organic root with a deceptively subtle swing. "You'd Be So Nice To Come Home To" and "S'Wonderful" flow as the jazz version of the sexy little black dress.
Normally with a release that includes "Moon River" you get a better than average lounge singer doing their riff on a handful of standards for a quick pay day. Fig Tree is smart, quirky, sexy and is on point literally every step of the way. The amazing talent of Latz includes a musical theatre background that she uses for contemporary effect so that nothing sounds dated. The Latz original Fig Tree is a syncopated delight as an incredibly tight ensemble take you for a musical joy ride.
Latz makes me believe in the art of the female vocalist again. A superior performance!
Tracks: Blue Skies; Hi-Fly; You'd Be So Nice To Come Home To; E'Luxo So'; I'm Having A Good Time; You Are; Fevgo; S' Wonderful; Fig Tree; Embraceable You; Corcovado; Ill Wind; She Was; Moon River.
Personnel: Deborah Latz: vocals; Jon Davis: piano; John Hart: acoustic and electric guitars; Williard Dyson: drums, percussion.
Special Guests: Peter Apfelbaum: tenor and soprano sax, flutes, percussion; Abdoulaye Diabate: voice on "She Was."