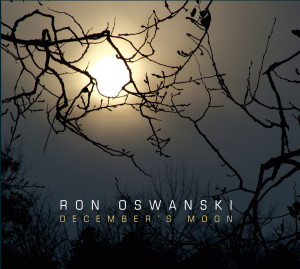 December's Moon,
I think I will start with the cover art/photograph and work backwards...So we start with a 5 star rating. The incredible band or perhaps jazz collective would be more fitting includes the great if not totally under appreciated Clarence Penn on drums, John Abercrombie on electric guitar with John Patitucci on acoustic and electric bass. Another under appreciated musician would be Tim Ries on soprano and tenor saxophones. The 5 star rating seems like a virtual lock at this point.
The one intriguing aspect of this release is the Ron Oswanski makes it very clear that while he does do his thing on the Hammond B3, this is not an organ album. Oswanski also incorporates the piano and even the accordion into a more eastern European vibe that some would say dances close to the ECM style of less is more and sonic exploratory is encouraged. Palmetto may well be the American counter part, the yin to the ECM yang having released stellar open ended jazz releases that on occasion walk the free jazz tightrope of harmonic wonder while remaining true to the form and function we may be slightly more comfortable with in the United States.
Oswanski's abiding love for the more open ended and spatially diverse tunes is more than apparent with a set list that covers Led Zeppelin's "The Rain Song" and Kenny Wheeler's "December's Moon." One of the more intriguing highlights might be the stunning closer by Fred Hersch as he pays homage to the iconic career of the late Bill Evans. Ron Oswanski is far more than a "capable" instrumentalist but an intellectual visionary with the ability to hit both the visceral and cerebral for the passive listener while remaining oddly accessible. The addition of Abercrombie and his fluid attack sets off the occasional foot to the floor swing of drummer Penn and bassist Patitucci. Artistry, musicianship, chemistry or that "special something" and the 5 is still holding steady.
December's Moon works because it would appear egos were checked at the door while Oswanski took charge with a vision of not "old school" but perhaps "old world." The musicians responded to his lead with the end result a textured gem that goes in my sleeper of the year pile all most immediately. It would be easy to over look this release...also a crime against music.
Tracks: White Meadow; Solo Por Undia; December's Moon; Ukrania Polka; Mercury Retrograde; The Rain Song; Sleeping Beauty; 80-80-8;Milk Of The Moon; Standard Tile; Kayak; Evanessence.
Personnel: Ron Oswanski: hammond b3, piano, accordion; Clarence Penn; Ian Froman: drums; Jay Azzolina: acoutisc and electric guitar; John Abercrombie: electric guitar; John Patitucci: acoustic and electric bass; Tim Ries" soprano & tenor saxophones.