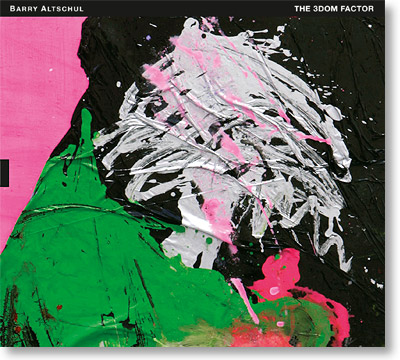 On January 8th, 2013 legendary drummer Barry Altschul celebrated his 70th birthday yet when his first release as a leader in a quarter of a century drops on 02/19/13, we are the individuals receiving the gift. The 3dom Factor is Altschul's new trio featuring the hot ticket for tenor sax aficionados in Jon Irabagon and master double bassist Joe Fonda. For the uninitiated, Altschul may be one of the finest drummers you have never heard of or you could just as easily own recordings by Chick Corea, Anthony Braxton and Carla Bley and have Altschul on your shelf without knowing it.
The piano-less trio seems to have escaped the jazz witness protection program and is coming back into vogue more so than you may think. Barry Altschul began to chart his own musical direction as a member of Chick Corea's trio with Dave Holland on bass. Now we have the young lions of jazz including minimalist J.D. Allen bringing back an ensemble format made famous by Sonny Rollins and Ornette Coleman. For roughly a decade Altschul lived in Paris and primarily worked the European circuit till returning to the United States in 1993 to accept a teaching position with Sarah Lawerence College while making the occasional appearance in some of New York's finer venues for live jazz. What makes Barry special? Altschul is one of the rare jazz triple threats as performer, educator and composer that can carry the weight of each responsibility incredibly well. As a performer he can move from controlled sonic fury to the subtle nuances required for the particular tune and to the trained or untrained ear would seem to be a born ensemble leader. A gift many artists continue to search for with minimal success.
The 3dom Factor features tunes that run the length of Barry Altschul's well traveled career with the exception of a cover of the eclectic Carla Bley tune "Ictus." The tune "Natal Chart" was originally released on Altschul's first recording as a leader but holds up extremely well in this particular setting. "The 3dom Factor" along with "Oops" and "A Drummer's Song" are the only first time recordings introduced in this marvelous trio setting. Walking the fine if not occasionally perilous tightrope that divides free bop and hard bop, Irabagon shows his formidable skills while Barry Altschul proves there is still plenty of gas left in the tank. This odd metered showcase is a master class of lyrical intensity and harmonic development. Jazz outside the box. If the dynamics grow to large for the piece, the trio simply expands the box. "Papa's Funkish Dance" has a deceptively subtle groove bordering on the addictive and in contrast to the more open ended "3dom Factor", has a slightly more accessible feel while continuing to push the musical envelope. "Just A Simple Song" is an introspective ballad bordering on the melancholy but never the morose. An intriguing study in dynamics and the emotive quality of three voices coming together as one.
One can only hope this is indeed a working band with plans for a follow up. Again, being a critic is far more than being critical as it is a necessary evil and part of the job. Having said that, there is simply nothing to take to task with this release. From the dynamic and all most three dimensional cover art to the music which mirrors the art work this is easily one of 2013 finest releases thus far.
Tracks: The 3dom Factor; Martin's Stew; Irina; Papa's Funkish Dance; Be Out S'Cool; Oops; Just A Simple Song; Ictus; Natal Chart; A Drummer's Song
Personnel: Barry Altschul: drums; Jon Irabagon: tenor saxophone; Joe Fonda: double bass.