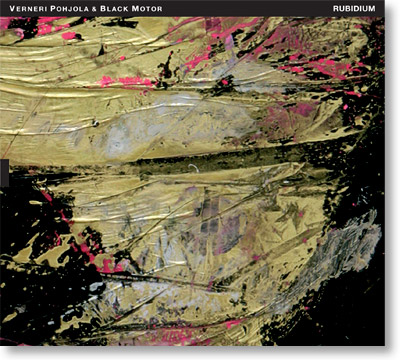 The critically acclaimed Finnish jazz collective is anchored by trumpet virtuoso Verneri Pohjola and accompanied by some well known compatriots from the groups Ilmiliekki Quartet and his own Verneri Pohjola for their own riff on western free jazz. Black Motor's Rubidium drops on 02/19/13. A key to success for this particular ensemble would be a finely crafted balancing act that is melodically expressive with an intense trio that takes improvisation to another level. Tenor and soprano saxophonist Sami Sippola remarked on the unique sense of harmonious balance amidst what some may consider controlled fury but with a lyrical sense of purpose.
This eclectic quartet is rounded off with Ville Rauhala on double bass and Simo Laihonen on drums for a rhythmic synergy that seems to drive the musical train. As individuals and as a collective ensemble, Black Motor has met the challenge of making their own opportunities which is how any good artist be they solo or a more dynamic ensemble stays financially solvent in these troubled times. I would be remiss if I did not mention the artist that handles the most contemporary cover art being Marianna Uutinen.
Rubidium is more than a Finnish jazz collective paying appropriate tribute to their native homeland but they also extend their musical appreciation to the Slavic music culture by performing two Russian compositions. After all most a decade of arduous work, Black Motor remains wildly popular in Finland and virtually unknown outside of Eastern Europe. Influences that run rampant in this ensemble include theatre, rock and classical experiences somehow all converging into an improvisational collective that would make those inclined appreciate the more free jazz movement here in the west. "Waltz" is led off with tenor saxophonist Sami Sippola and while the cliche of "European jazz" holds true, there is still an unmistaken accessibility to their harmonic sense of direction with this particular tune. "Alma" is dialed back in intensity and kicked off with lyrical bassist Ville Rauhala and the subtle nuances of Simo Laihonen on drums.
Early idols of Black Market include Albert Ayler but there is a far deeper lyrical synergy between members than most anything one could point to in the Ayler catalog. In reality as the ensemble reaches certain creative peaks there are and have been special guests including poets, dancers, performance and even circus artists. Verneri Pohjola proves he is easily in that top half dozen of trumpet players and is a brilliant addition to Black Motor.
4 out of 5 Stars. A release that will hit you on the visceral and cerebral levels of consciousness.
Tracks: Waltz; Song of India; Vainila; Alma; Rubidium: Old Papa's Blues; Sax-O-Phun; Kynnyspuulla; The Last Janister.
Personnel: Verneri Pohjola: trumpet; Sami Sippola: tenor and soprano saxophone; Ville Rauhala: double bass; Simo Laihonen: drums.
www.tumrecords.com