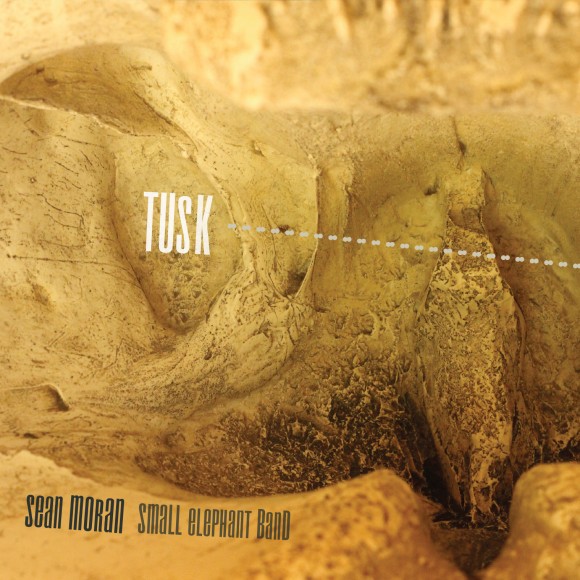 First things first...This release has a street date of 04/01/13 so yes some may consider this review a tad early but in the day of the digital download, pre-order and services such as Spotify, the traditional street date on a release is often meaningless and sometimes there are releases simply too good to wait on. Tusk falls into that category.
Labels or "sub-genres" of jazz were invented by critics and the record labels in an effort to best categorize or in some cases stereotype music they knew very little if anything about. Sadly this practise continues. Sean Moran heads up this ensemble bending a seemingly never ending sonic trail with his nylon string guitar. The ensemble has been tagged with the label "chamber jazz" which doesn't really hold water for me. Organic/acoustic hard bop played by a quintet that gives new meaning to "unplugged." Michael McGinnis is on clarinet and bass clarinet and while both instruments are not hiding out in the jazz witness program, McGinnis is as technically proficient and artistically gifted as they come. A virtuoso talent working on a new level of creative thought. Chris Dingman is on vibraphone with Dingman perhaps being one of the most if not the most talented "newbies" to emerge since Gary Burton. The rhythm section is rounded out with Reuben Redding on acoustic bass and Harris Eisenstadt on drums. Redding and Eisenstadt work incredibly well together and only add to the unique harmonic direction Moran is taking on this effort.
Tusk kicks off with Moran doing his own free style riff on the flamenco infused "Elliptical." For what is essentially an acoustic quintet to play from such a rich color pallet is like a sonic soul shower for the mind. Vibraphonist Dingman is featured on the more exotic or world music oriented "Monketown." Eisenstadt plays with an intense sonic fury on "Ten Mirrors" which follows the "Year of the Snake" where Moran confirms or at the very least gives credibility to my impression of organic free jazz with unexpected melodies and riffs of the musical road less traveled. Radding's prolific bass work is out front on the zen like "To The Edge Of The World."
I hate labels...but I love this release. There are numerous chamber jazz groups coming out of the New York area and they lend themselves to the more pretentious art community that is different simply for the sake of being different - they don't have a clue as to why they are different or what statement they are trying to make. Tusk is different. Creative, real, and organic as jazz should be.
Tusk is not the stereotypical chamber jazz some may first think of. There is nothing pretentious or over played here but a distinct lyrical and creative sense of purpose where five virtuoso musicians take a jazz collective on a collision course with the future.
Tracks: Elliptical; Circle One, Two; Monkeytown; Moon Reflected; Year Of The Snake; Ten Mirrors; Dream Of Water; The Camel; To The Edge Of The World.
Personnel: Sean Moran: nylon string guitar; Michael McGinnis: clarinet/bass clarinet; Chris Dingman: vibraphone; Reuben Redding: acoustic bass; Harris Eisenstadt: drums.
Already on my Best of 2014 list.