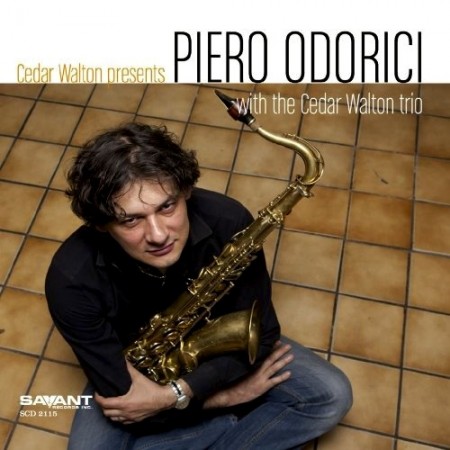 Italy has been a virtual gold mine for jazz over the past year with tenor saxophonist Piero Odorici's U.S. debut perhaps being the mother load when it comes to talent. Cedar Walton Presents Piero Odorici With The Cedar Walton Trio is more then the stereotypical solo release. Call it a jazz collective as each member of this killer quartet contributes a tune to fit in nicely among standards such as "Over The Rainbow" and "Tin Tin Deo." Odorici's tone is smooth and full bodied much like a fine Cabernet Sauvignon from his native Bologna. Odorici has a most impressive resume having performed with such luminaries as Curtis Fuller, Joe Lovano and now the great Cedar Walton.
Opening with the original "Casadias" there is a wonderful free form and spacious intro played by Walton before Odorici kicks in with a lyrical driven melody set against an intoxicating Latin flavored rhythm. David Williams on bass and Willie Jone III round out a first call rhythm section anchored by Cedar Walton. Harmonically diverse but never self indulgent, Odorici's compositional skills are on point with his instrumental work. Long story short, this cat is the real deal. "Over The Rainbow" is turned into a true smoker with Jones masterful drum solo and Odorici again confirming he is as technically proficient and as artistically gifted as any tenor player working the scene today. Walton is the personification of swing on this Harold Arlen classic and while perhaps one of the five greatest tunes ever written is successfull in reinventing "Over The Rainbow" without an air of self indulgence or over kill that would trip up lesser talent. "My One And Only Love" is a heartfelt somewhat wistful ballad showcasing Odorici's intimate and highly lyrical side and with his keen sense of melody he pursues a delightful sonic exploratory. "If I Should Lose You" closes this gem and is reinvented as a more mid tempo tune as opposed to the standard ballad treatment normally received. Williams lyrical bass and the finesse of Jones are like pieces of a beautiful mosaic with Odorici and Walton carefully positioned within this bright and breezy swing that develops in such an organic fashion that the musical chemistry is in full effect.
There is a new shooter on the straight ahead scene and his name is Piero Odorici. Easily one of the best for 2012, Piero Odorici is some righteous stuff, the second coming of Stan Getz? Taste is subjective but you have to check this guy out! Tone, phrasing and one of the better lyrical players to come along in years finds Odorici shedding the tag of sideman and stepping out center stage where he belongs.
5 Huge Stars!
Tracks: Casadias; For Someone So Beautiful; Over The Rainbow; Tin Tin Deo; My One And Only Love; Native Son; Willie's Groove; If I Should Lose You.
Personnel: Piero Odorici: tenor saxophone; Cedar Walton: piano; David Williams: bass; Willie Jones III: drums.